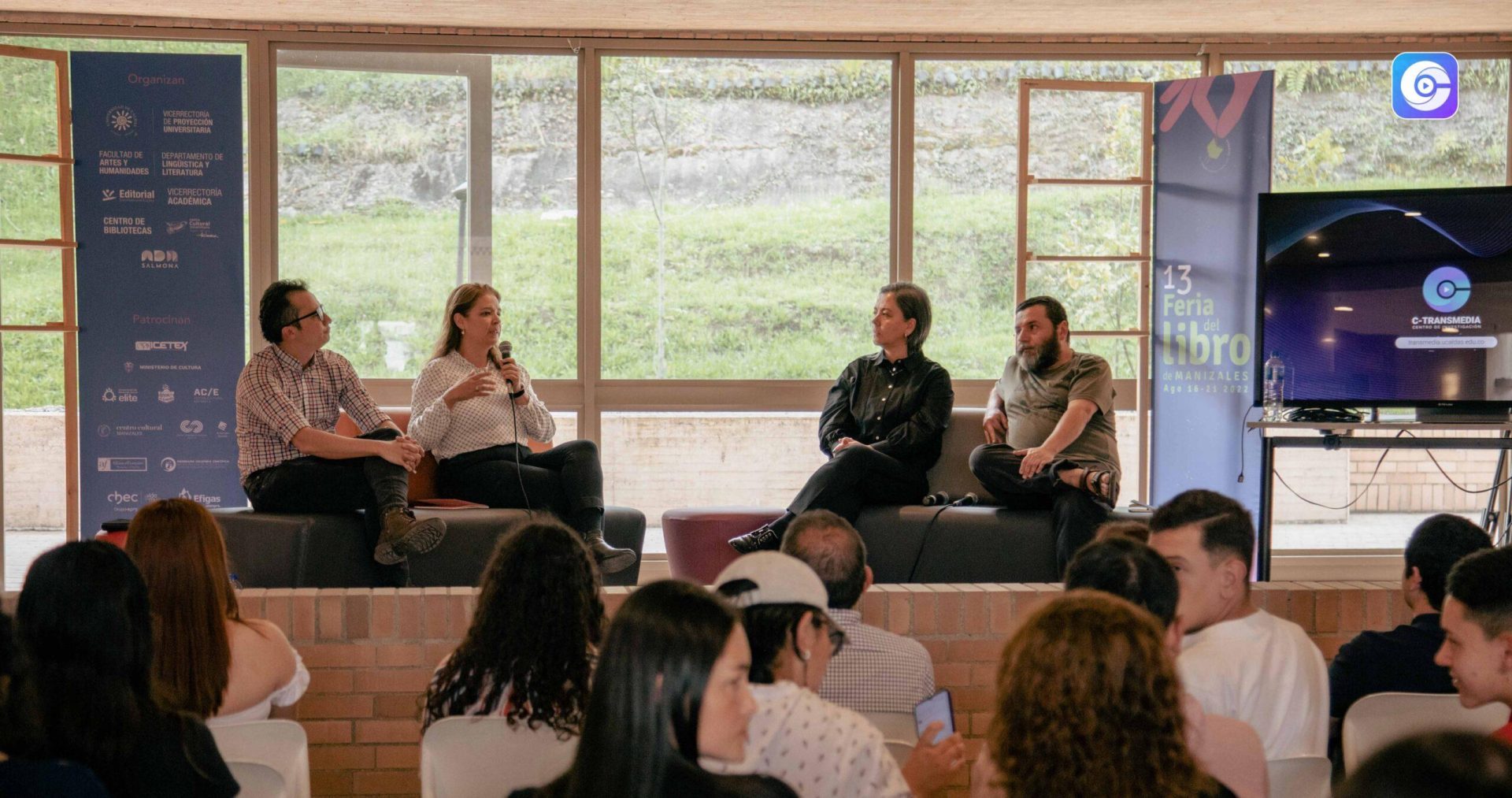 Transmedia strategies in science popularization to facilitate access to knowledge
Transmedia strategies in science popularization to facilitate access to knowledge
18.08.2022
In the framework of the 13th Manizales Book Fair, the conversation "Storytelling of creation and science: transmedia appropriation of STI" was held. An event organized by the C-Transmedia Research Center of the Faculty of Arts and Humanities of the University of Caldas, to bring citizens closer to research, creation and new knowledge through strategies of social appropriation of knowledge.
In the Cultural Café of the CCU Rogelio Salmona, a reflection was generated between Paula Marcela Arias, former director of Colciencias; Pablo Rolando Arango, teacher, researcher and coordinator of the transmedia project "La Penúltima Verdad"; Claudia Jurado Grisales, dean of the Faculty of Arts and Humanities of the University of Caldas and Dario Arenas, leader of innovation and knowledge transfer of C-Transmedia, in which topics such as the management of institutions in relation to scientific dissemination, traditional formats and digital appropriation that democratizes access to knowledge were addressed.
The panelists expressed:
Claudia Jurado Grisales commented that "normally when we have disseminated research it has been done in traditional media, but what C-Transmedia proposes through the different possibilities of visual manifestation is very timely, the professors have received it in the best way and have understood that this is a way to bring all research processes closer to the community".
According to Pablo Rolando Arango: "we have a great amount of talent, in all the different arts and disciplines, with our students we can work together and produce things that can really reach a wide audience".
Paula Arias mentioned that, "the origin of all transformation is the person, then the digital processes come from the people, they are the ones who appropriate the technology and those who lead them to use them as tools. So my proposal is always to generate transformation from people and their needs, tell their stories, design solutions and return to look for tools in technology".
During the talk, the ASCTI strategy (Social Appropriation of Science, Technology and Innovation) digital products made by C-Transmedia, the result of projects carried out by research groups and departments of the Faculty of Arts and Humanities, was also presented.
The scenario was conducive to share experiences and make known that scientific processes involving the humanities should be, not only valued by institutions and academia, but known and appropriated by citizens, so that they can make better informed and more innovative decisions.
Redaction: C-Transmedia Communications
University of Caldas